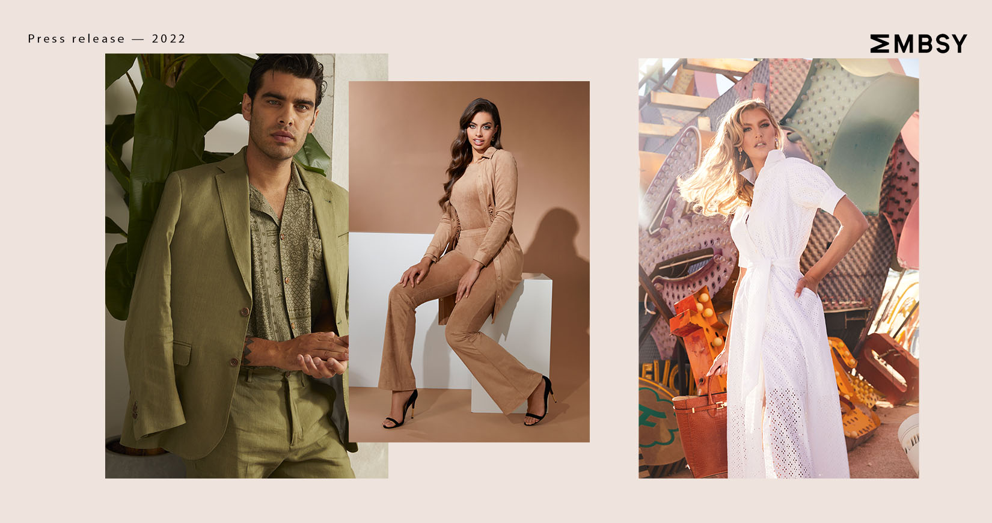 Travel the world in style with the Marciano SS22 collection
This season, the Marciano SS22 collection evokes faraway adventures to the romantic desert dunes, Moroccan medinas and azure waters of the immaculate Mediterranean islands. Drawing on the effortlessly chic style of Marciano's DNA, the collection is filled with versatile, stylish outfits that promise easy transition from day to evening wear. Precious fabrics, such as linen and silk blends further enhance the looks, exuding timeless appeal updated with this season's color palette. Women enjoy feminine silhouettes with flattering lines, soft tones, and smart prints, while menswear promises high performance and elegance with tailored detailing and understated, modern outlines that are filled with wanderlust.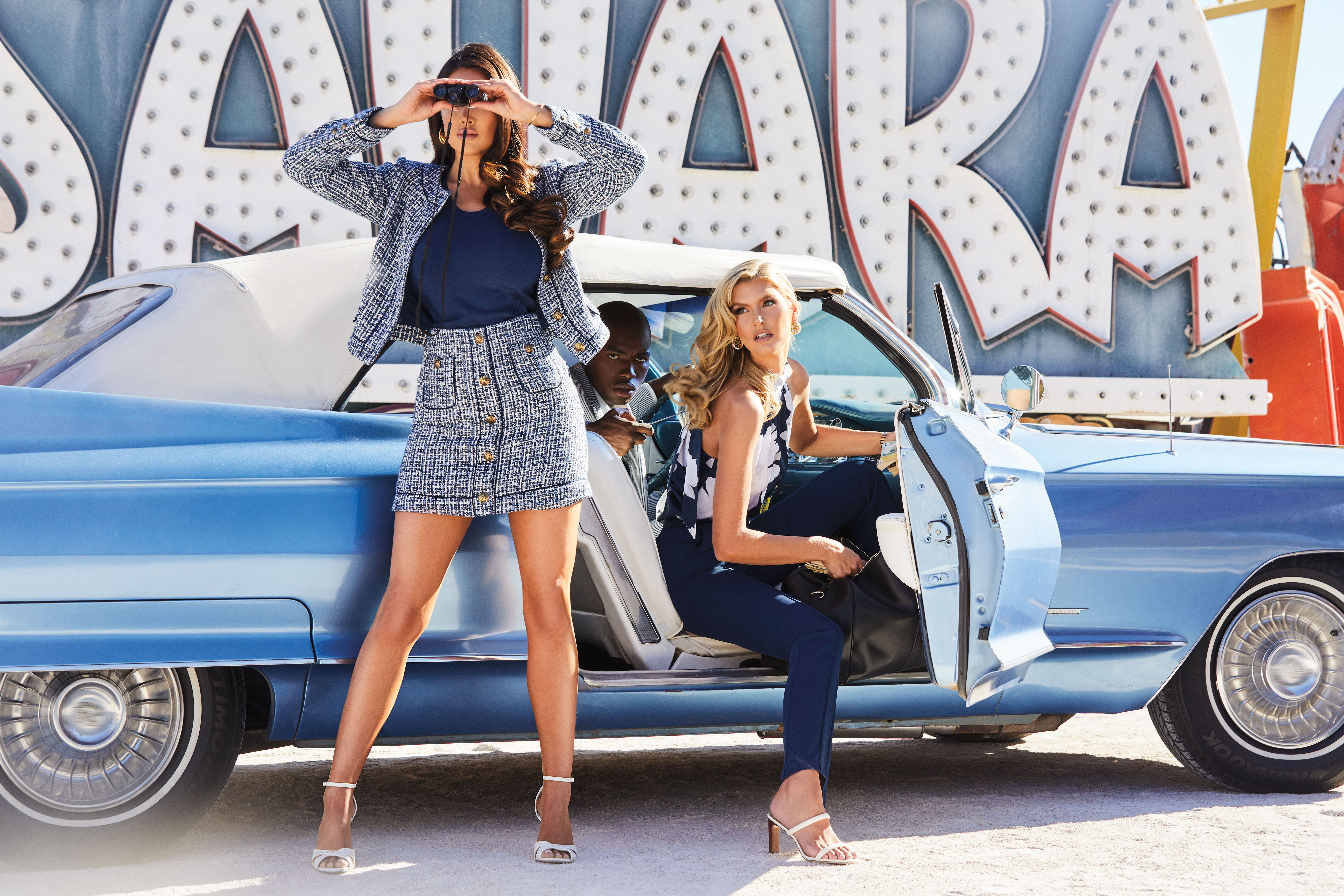 ---
WOMEN'S COLLECTION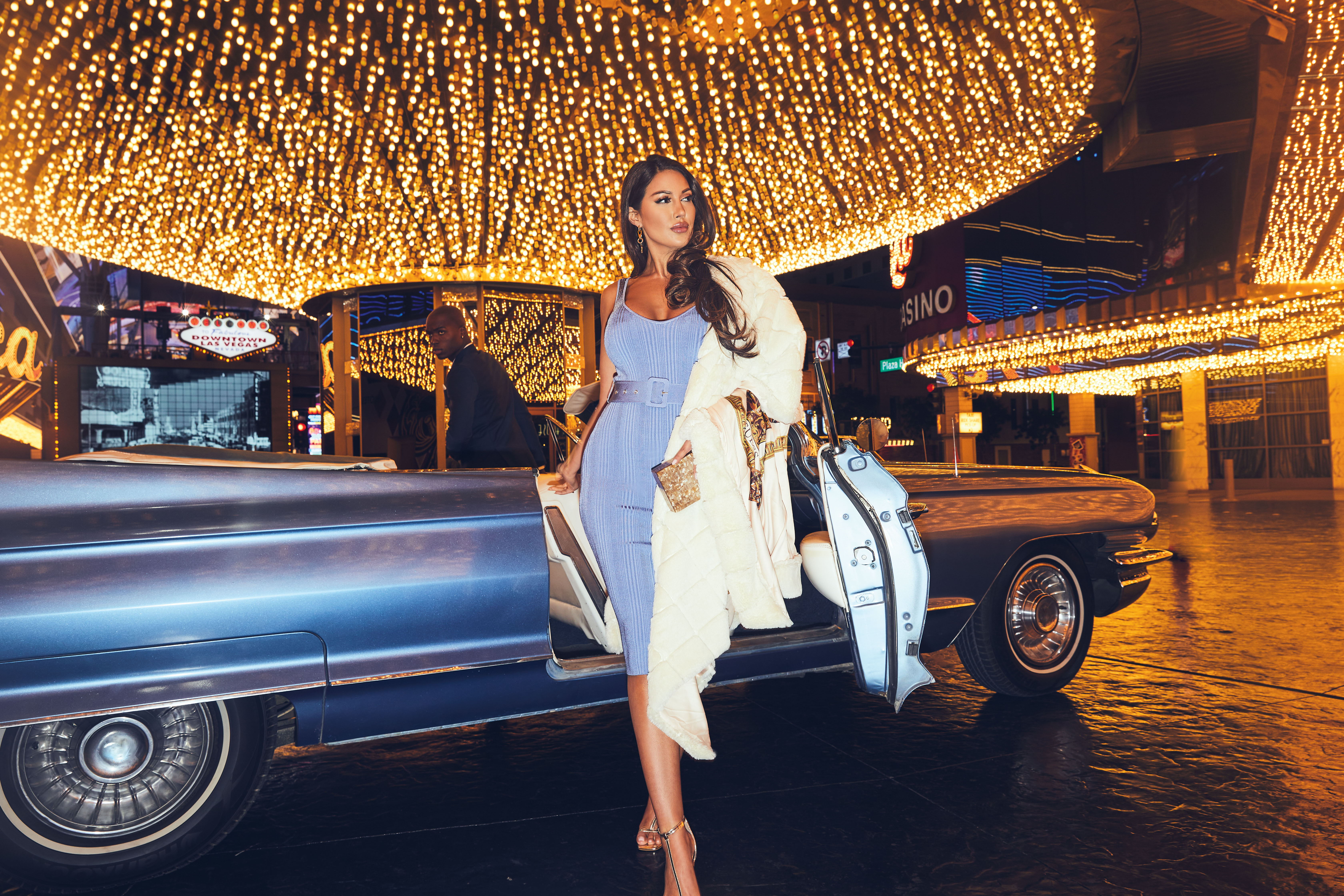 Moroccan Moment
Mysterious desert allure enticed with a modern, feminine twist. This effortlessly chic theme promises timeless style with flattering silhouettes, soft pleats, and v-line necks. Romantic, smart prints of falling floral and red paisley chain add classic appeal, while a palette of wistful peach, blush, hacienda rose, secret blue and nude brown complement bold boucle fabric with contrasting piping and buckle detailing to complete the look.
---
Ibiza Escape
Ethnic femininity and exotic beach inspiration offer an irresistible charm this season. Versatile, chic looks with structured silhouettes, long and short dresses, blouses and effortlessly smart jackets create a refined, summery look that is further enhanced with exceptional linen, silk and jersey fabrics. Tones of blue, laguna gold, deep avocado and hacienda rose complement beech batik blue, rose romance and blissful paisley prints. Fine attention to detail sees belts in matching fabrics, macramé and stitched accents.
---
Santorini Sojourn
Bask in the sun-drenched opulence of a summer in Greece with this beautiful array of summery garments. Exposed shoulders, lightweight floating short skirts, fitted silhouettes and fancy day dresses create a chic look that borrow inspiration from summers spent in the Mediterranean. A palette of pale pearl and white shades, citrus spin, cerulean blue, jet black and Aegean sky works in harmony with Santorini, Mykonos and underwater love prints. Textured crochet detailing ensures a feminine touch.
---
MEN'S COLLECTION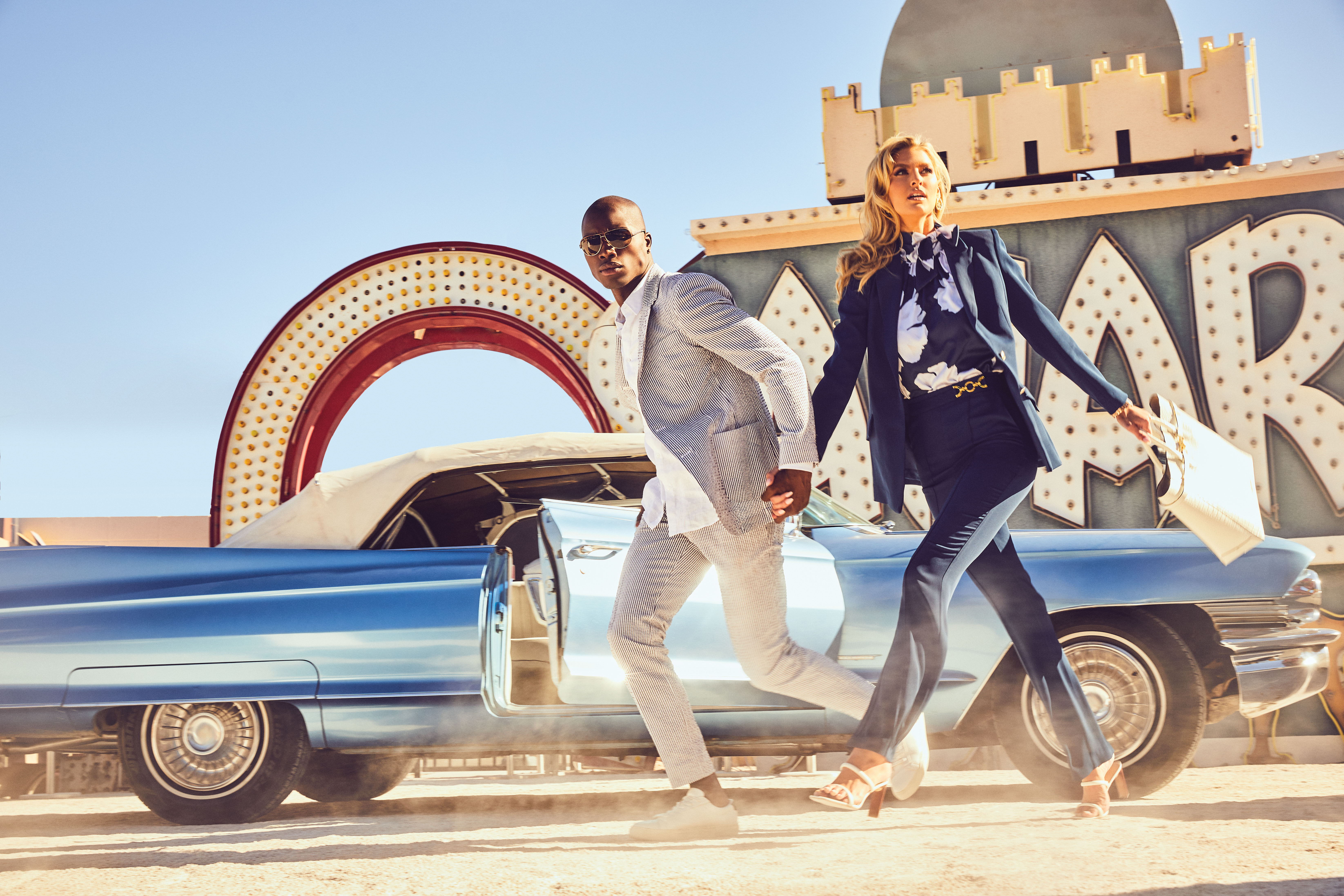 Gentleman Essential
Equipping the modern gentleman with his stylish everyday essentials, this array complements a busy urban lifestyle that demands functionality, high performance and elegance. It is comprised of pieces that should be the staples of every man's wardrobe. Timeless light wool suits, crews, trench coats and leather bombers with clean silhouettes are complemented by essential denim, chinos and polos. Tailoring and careful finishes ensure effortless day-to-evening outfits, while subtle foliage and desert prints give a subtle nod to wanderlust. A palette of navy, salt white, pistachio, creamy yellow, Turk sea blue, moss and lilac round off the look.
---
Le Jardin du Desert
Take a journey through the medina to the Majorelle gardens with this Bertolucci inspired array of smart, lightweight pieces. Beautifully effortless suits with sharp silhouettes, shirts and chino shorts are complemented by field jackets and essential sweaters. A warm, natural palette of silk blue, mountain honey, Pasadena stone, hazel wood and Moroccan blues promise opulence with understated charm and a warm, summery atmosphere that transition with ease from day to evening wear.
---
The Good Italian
The deep blue of the Mediterranean beckons with this luxurious array of smart summer garments. Dynamic, tailored pieces with modern urban touches are ideal for the active man as he explores the summery island paradise of Capri, far from the chaos of the mainland. Bowling shirts, gabardine pants, silk-blend tees, safari shirts and seersucker suits create a chic look that borrows subtle prints and an island-inspired palette of sandal wood, light blue, crème brûlée and clean white. The result is a timeless look that exudes summertime elegance.
---
Highlights:
Colors: wistful peach, blush, hacienda rose, secret blue, nude brown, laguna gold, deep avocado, mineral grey, clarity blue, lilac mist, cherry bloom, corn silk, citrus spin, cerulean blue, jet black, Aegean sky.For him: navy, salt white, pistachio, creamy yellow, Turk sea blue, moss, lilac, silk blue, mountain honey, Pasadena stone, hazel wood, sandal wood, light blue, crème brûlée.
Prints: paisley chain red, falling floral, beach batik blue, rose romance blue, rose romance green, blissful paisley, Santorini, Mykonos, underwater love. For him: foliage, desert, seersucker, stripes.
Fabrics: boucle, linen, silk, viscose, jersey, nomad crochet, paisley macrame, poplin, leather. For him: lightweight wool, tech linen, cotton, blends, silk, leather, supima cotton, suede, stretch gabardine.
---
About GUESS?, Inc.
Established in 1981, GUESS began as a jeans company and has since successfully grown into a global lifestyle brand. ​ Guess?, Inc. designs, markets, distributes and licenses a lifestyle collection of contemporary apparel, denim, handbags, watches, eyewear, footwear and other related consumer products. Guess? products are distributed through branded Guess? stores as well as better department and specialty stores around the world. As of January 30, 2021, the Company directly operated 1,046 retail stores in the Americas, Europe and Asia. The Company's partners and distributors operated 524 additional retail stores worldwide. As of January 30, 2021, the Company and its partners and distributors operated in approximately 100 countries worldwide. For more information about the Company, please visit www.guess.com.
---
Download all Marciano SS22 womenswear packshots here.
Download all Marciano SS22 menswear packshots here.
Download all lookbook and campaign images here.
---
For more information:
Mallika D'Huys
PR Account Manager, MMBSY